Talk Accepted at Game Sound Con 2020!
July 19, 2020
Great news! My talk "Composing Music for In- Game Islands, Subterranean Areas and Beyond" has been accepted this year by GameSound Con. Since we all know the climate of this year, the conference will be online. I believe a lot of people will benefit from this talk as it will showcase how to write four to six minutes of music without it being monotonous in loop form.
GameSound Con is the colossal game audio conference people come to discuss everything about..you guessed it…game audio. Anything casual to AAA games, this conference is for composers, sound designers, dialogue specialists, researchers and others who want to keep up with the cutting edge in video game sound, music, dialogue and technology. GameSound Con this year takes place October 5th- 7th. This is the first time that GameSound Con has extended to a third day!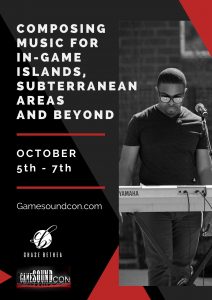 My talk specifically will be live October 6th at 3:45PM – 4:45PM PST. I will be doing a Live Q&A after the talk is finished so come with your questions.  The talk will also include a transparent analysis on the technical sound design and artistic creative process. It will include design journal entries, practical examples and anecdotes that outline the journey of sustaining creativity during a 2.5 year low budget Indie development cycle. Attendees will also understand the constant challenges, discipline and initiative it takes to iterate and test your own work before seeking final approval on a small indie team. You can sign up for tickets here.
It's a little bittersweet though as it has been a career goal of mine, as video game composer, to speak there in person and enjoy one of these grandiose dinners that previous speakers have enjoyed and bragged about. Nonetheless, we must all stay safe.
I'd like to thank my Mum, Cheridah Best, for her help with being the second pair of eyes and being my soundboard to polish my pitch for this talk. I truly believe my talk would not be excepted without her help. Thank you Mummy!