NEW GAME! Bushido Bots with Adaptive Music made in ELIAS!
March 15, 2021
Waking Oni has brought me on to score the rhythmic fighting game, "Bushido Bots"! I am thrilled to be on the team and can not wait to bring more adaptive music experiences. This game is being developed during the Playcrafting Anywhere Jam and sponsored by Google Stadia.

Waking Oni is a game development studio mostly known for their work on Onsen Master, headed by Derrick Fields. We both share a love of retro games, such as Bushido Blade, anime and he lives in my home city, Chicago.
Playcrafting commissioned Waking Oni to make a game in a week where the theme is local co-op
Waking Oni Games is made up of @WakingOni, @mikeflewd, @ceschiii & @Basilbaye. They focus on making games to uplift underrepresented voices & exploring cultural intersections. Tune in on 3/21 to see what they create for The Play Anywhere Game Jam presented by @GoogleStadia! pic.twitter.com/f7NJbLWC3P

— Playcrafting @ GDC 2023 (@Playcrafting) March 18, 2021
Derrick brought on GamePlay Designer, Cesca Carletto-Leon (We Should Talk), Mike Flood, Programmer (StarCrossed) Oriana Carletto, Concept Artist & UI Artist (StarCrossed) and me  — the Video Game Composer Maestro.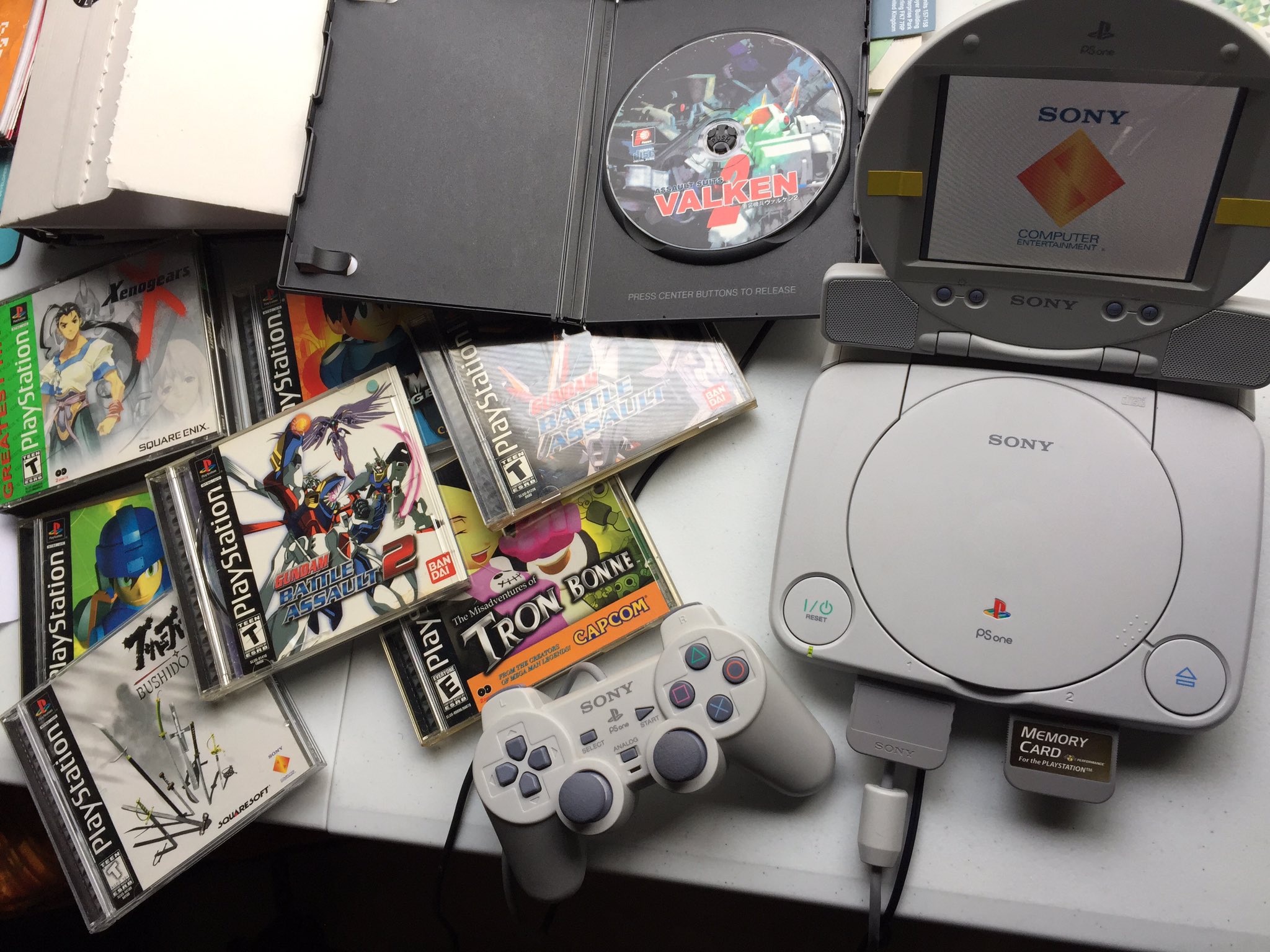 I actually got to research the games they mentioned (Bushido Blade & Mega Man Legends) I also added a few inspirations of my own such as Gundam Battle Assault 1 & 2, Assault Suits Valken 2 (an Import & a Classic), The MisAdventures of Tron Bonne and Xenogears. My big retro game collection is paying off and it helps to have the PlayStation with games in great shape for quick play access. This is what allowed me to come up with design styles that could fit into the battle mechanics early. It is the perfect scenario that I have dreamed of for years and is very exciting.
In the game, players take control of a Bushido Bot and engage in a duel. You can adjust your stance positions, move to the beat in the arena and take out your foe. Every moment of every groove is a direct response to your opponent.
🤖BUSHIDO BOTS⚔️
FIGHT! SLASH! AND CLASH IN THIS MINIATURE SIZED DUEL TO THE DEATH!

A rhythmic robot fighting game developed by @WakingOni @chasebethea @basilbaye @MikeFlewd and myself for the Play Anywhere Game Jam!

Watch the trailer in thread⏬#gamedev #gamejam pic.twitter.com/kAbB2fIefu

— cesca (@ceschiii) March 22, 2021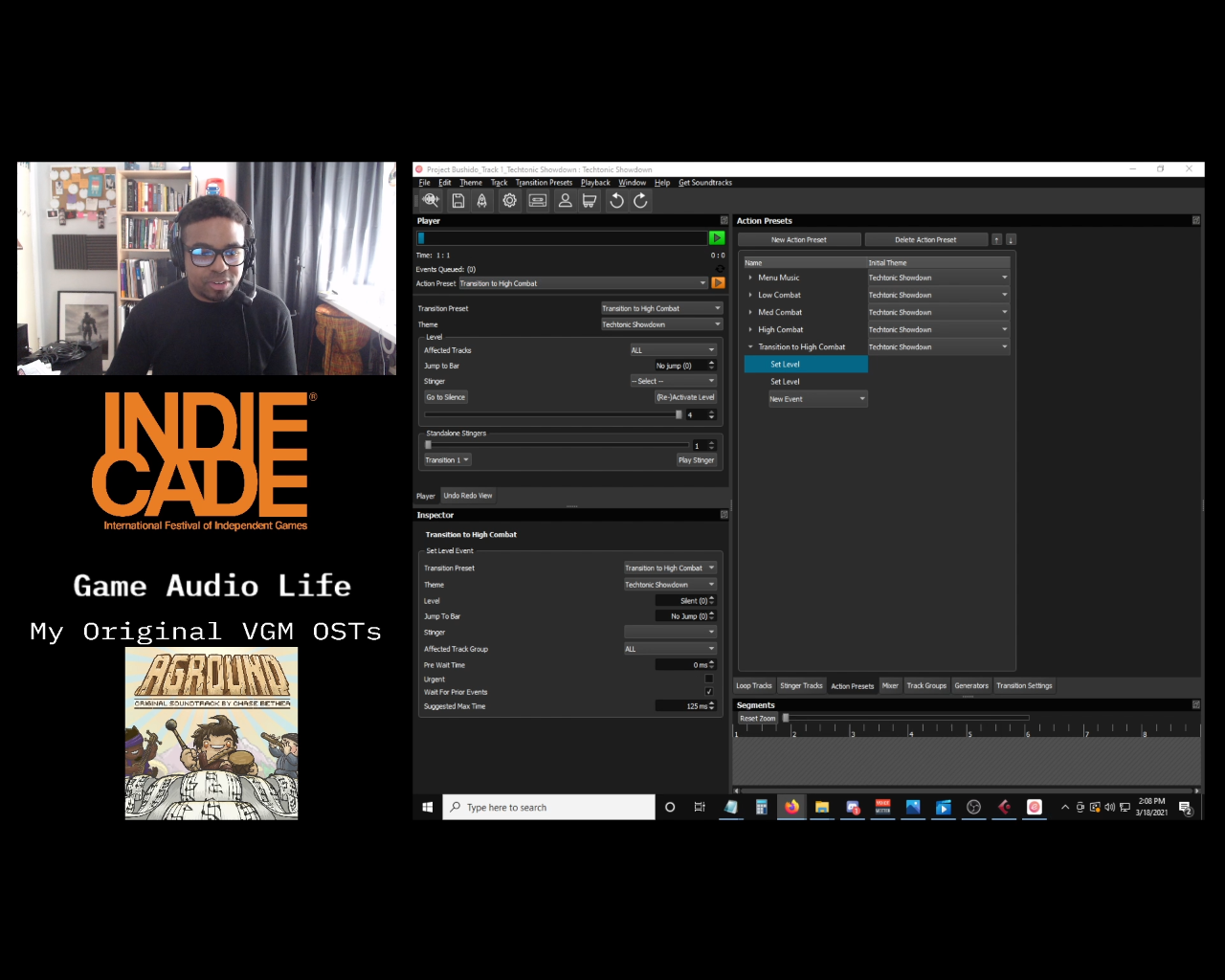 In ELIAS, the design setup via composition was not too challenging. The real challenge was working with pickups and transition stingers. Martin Barreby from ELIAS, helped me during the stream but in the end, I ultimately figured out how to do it myself. I am very grateful for Martin's help and advice to help me reach the solution. Check out how I did it.
If you want to jam out to the final output without the stress of dueling, check out the track, "Techtonic Showdown," here.