New Article Published on GameMusic.net plus More!
February 7, 2020
I had the pleasure to write for Game Music.net about Beyond Oasis. A game/soundtrack I loved as a child. The article was published Feb 6th, 2020. I had no idea it would receive a decent amount of praise.
Time and time again, I found myself playing the game over time. I originally owned it on SEGA Genesis. I picked it up again on PS3 SEGA Classics. Then, Nintendo Switch had a SEGA Classics collection too. I can recall from the first time I played the game that once the title screen came up, I could sense the fun. The music by Koshiro-san enhanced my intuition and once I was playing I became enamored.
You can read the full article here
Initially, when I posted about the article, it received a few eyeballs aka looks. So, I decided to make a video talk announcing that the article was published and scheduled it to post a day after but this time tagging Koshiro-san on Twitter within the post. What happened next is something I truly did not expect. It was this.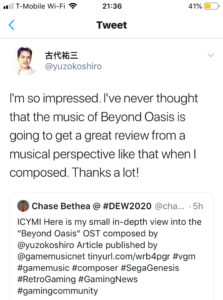 I was beyond elated. I thought myself how something I did out of passion and request has flagged the attention of Koshiro, Yuzo. I shortly started getting notifications of people following me on Twitter and soon after Koshiro-san himself followed.

This truly made my Friday night. Its wonderful to be acknowledged by a composer's work that you grew up with. It's another for them to be impressed with the work you do with their own.