Guest Speaker Panelist Announcement: PMC (Production Music Conference) 2022 – New Rules: Licensing Music Into Games!
September 19, 2022
Back to back! From Game Devs of Color last week to PMC this week! I am elated to present that I will be guest speaking as a panelist representing the the Indie Games scene! The talk is titled, "New Rules : Licensing Music into Games".
I have to admit it's quite the honour to be on this panel. I was asked to bring my expertise as a video game composer on licensing music for indie games. Although, my experience isn't too deep on this, I know enough about the business side of it.
Other panelists include, Cory Shackelford, (Music Attorney), Jennifer Harmon (Senior Director of Creative Services, Visual Media, ASCAP) Mason Lieberman, (Senior Audio Supervisor, Tencent) Bobby Tahouri, (Composer, Rise of the Tomb Raider) and moderated by Cody Matthew Johnson, (CEO, Emperia Sound and Music Inc., Devil May Cry 5)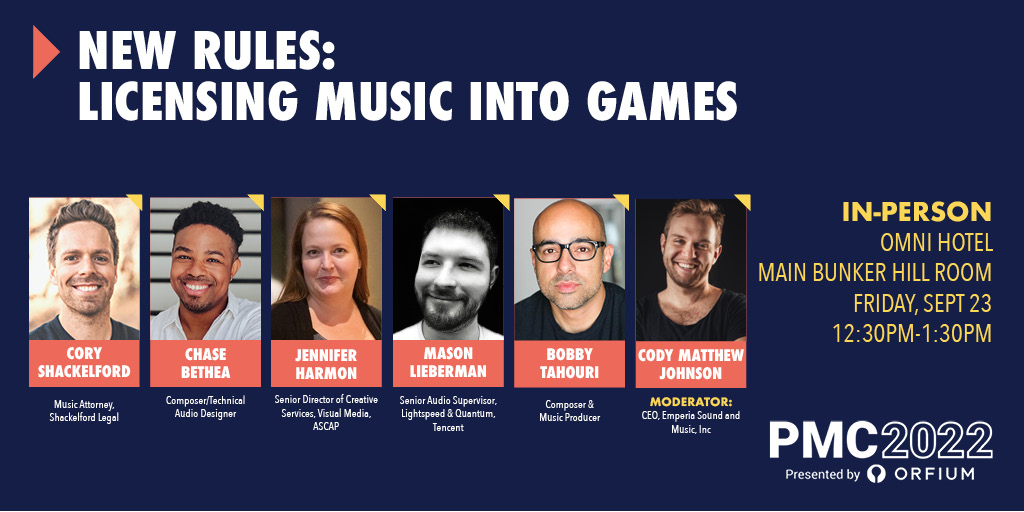 The format of the panel will be an open forum conversation on a series of topics, such as revenue opportunities, business of games from AAA to Indie, understanding the medium and past and future practices. More discussions include the differences between linear and interactive games. There will be an opportunity for the audience to ask questions after the panel discussion.
The PMA's Production Music Conference, presented by ORFIUM, is scheduled for September 21-23, 2022 at the OMNI Hotel in Los Angeles, CA. This event will consist of both virtual events and in-person events. Our panel will be in-person panel and the in-persons programming will be streamed live both within the virtual conference platform and within the conference app.
Our talk is Friday, September 23rd 2022 from 12:30PM – 1:30 PM PST. You can register for the event here