Game Boy Jam
August 8, 2014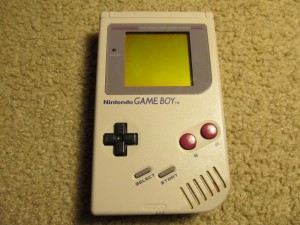 I had the pleasure of participating in my first Game Boy Jam! If you know me, you'll know that Game Boy was one of the first handheld systems I owned. I have so much nostalgia from this and it was a great feeling making the sounds for a Game Boy like game. Who would have thought I would get to participate in something this cool!
Essentially, Game Boy Jams is an online or in-person collaborative event to re-create games in the style and limitation of Game Boy games from 1989 – 2003 but on the computer. There is a time frame to get the project finished. Normally, about a week.
So, the name of the Game Boy Jam title that I got to score music for is called "Run Like Balls" and was created by The Nicktator.  You play as a snail and avoid boxes. Simple mechanic but effective and fun!!!
I made the music in 3.5 hours as I was quite late to the project. I happened to learn about the jam 2 days before submission. I submitted my music to collaborate and didn't hear back from the developer for a day. I began to get discouraged that they found someone and was too late until I received a response notifying me that I was on the team. The developer was worried that I may not finish in time but I knocked out this tune and several sound effects for the game before the deadline. I was so pumped for this Jam but believe it or not, I was little stumped on how to get started.
I started off with an odd rhythm and I knew I wanted it in minor. I referenced to one of my favorite composers who did music for the game "Turok: Battle of the Bionosaurs", Alberto Jose Gonzalez. Check out the tunes below:
[arve url="https://www.youtube.com/watch?v=sSqjcKu1dPw"]
After I created the foundation, I was able to modulate and then return home. I still needed to maintain the energy of the beginning of the song so, I switched the rhythm up a little by taking some Drum & Bass techniques.
You can check out the full song below. Let me know what you think!
Of course I can't leave you without the link to the game so you can PLAY IT and see how it fits in the game! We would love your feedback on that too! Click the link below to download the game now on Game Jolt! It's FREE!!!!! We would love to hear what you think too! So, drop us a comment! Play on Playas!