Fall Experiment 2019 – "The Future of Music in Gaming and E-Sports"
October 1, 2019
It is a great privilege to have been asked to come and speak on a panel at the Fall Experiment 2019! The Gaming, Music, Art and Tech Expo takes place at The Wisconsin Center on October 5th and 6th. The panel is titled " The Future of Music in Gaming and E-Sports"
Tarik Moody, Digital Director, DJ, Host of Rhythm Lab Radio and co-host of the foodie segment "This Bites" at 88Nine Radio Milwaukee,  assembled the panel titled, "The Future of Music in Gaming and E-sports".
Initially, Tarik asked Wilbert Roget II (Composer for MK 11, WWII, Tomb Raider – Temple of Osiris) to join. Will kindly suggested Sam Hulick (CEO of ReelCrafter and a Co-Composer of Mass Effect) and I to take his place on the panel instead! (Thanks again Will!)
The panel also includes Josh Remsberg (Vice President Business Development at Capitol Music Group), James "JT" Thompson (Founder of BottleSpark), Gerard "Hip-Hop Gamer" Williams, Arabian Prince (Founder of N.W.A). The panel is moderated by Tarik Moody.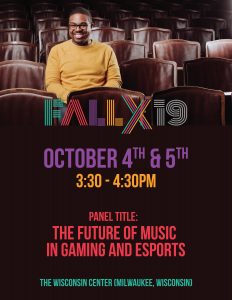 Here is a Synopsis of what the talk is about:
"Over the last few years, the gaming industry earns more revenue than the movie and music industries combined and that may be why you see record labels and film studios looking at gaming for new audiences and revenues.  And in recent years, gaming and music have become 'good friends.' D'Angelo contributed a song to one of 2018's biggest games, Red Dead Redemption 2.
One of the biggest streamers on Twitch, Ninja signed a record deal. And you can find video game soundtracks on Spotify, Vinyl records, and more. Artists like Drake are investing in Esports. Games like Grand Theft Auto have been a place where people have discovered new music.  What does this mean for the future of music in gaming and eSports? What opportunities are there for the musicians when it comes to licensing and performing at Esports events? How can game studios use the power of music to reach new audiences for their games? What does it take for musicians to make music for video games? How is making music for video games different than movies and TV?  This panel will explore all of this and more."
The talk is on October 4th and begins at 3:30pm – 4:30pm. If you're attending, I hope to see you there. Come and say "Hey!"