EPOS Presents Welcome to The Power of Audio in Gaming with panelist Chase Bethea
January 18, 2021
Career Announcement! I will be one of the panelist for this event! It's quite the honor to be speaking about some heavy topics in game development and futuristic predictions about game audio. In addition, to how it drives development of audio equipment. Always thinking of the player!
The panel discussion will be hosted by Danish tech journalist David Guldager and feature Andreas Jessen, Senior Director Product Development at EPOS, and four external gaming audio experts including :
Matteo Stronati – Audio Director at Riot Games
Bjørn Jacobsen – Sound Designer – Cujo Sound
Martin Kvale – Sound Designer – NokNokAudio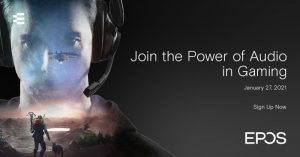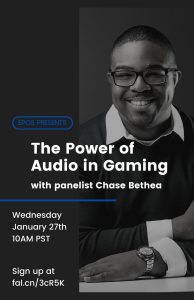 The panel discussion is a live event and part of the agenda for the virtual media day, The Power of Audio in Gaming hosted by EPOS, attended by media and public from around the world. We plan to discuss topics about where the future will lead in the space new developments within gaming audio, any technical constraints that I meet when designing audio for games that could be overcome in the future and how important great audio is for players – plus other similar topics. The panel will be 30 minutes, with some time for live questions from the audience afterwards. The audience will be made up primarily of games and tech journalists from Europe, North America, Australia and Japan, games industry people and players interested in audio tech.
Tune in this Wednesday, January 27th 10AM PST by signing up here – https://lnkd.in/eD4YftD