"Distinct" Voices in Game Design Industry Panel
November 10, 2020
Hi! Otis College of Art and Design Extension has invited me to be on their panel. I will be guest speaking along side some very talented and distinguished industry professionals such as Amy Allison, Director of Marketing and Community for Skydance Interactive and Jonathan Scott, Senior Artist for Scopely. Of course, yours truly the video game music composer maestro will be on the panel too!
It's amazing that this will be my tenth talk this year! Earlier this year I only submitted three talks and it's an honor to be asked to be on this panel.
Unfortunately, this will be the last Diversity talk that I participate in this year and beyond. In all honesty, I would not have said yes to the talk if I knew that it was another "diversity" discussion. I was surprised to find out that was the name. I was asked by my friend, Phil if I was interested to be on a "panel" not knowing the name of the panel discussion. If you have been following my blog/social media, as you know I have done a couple "Diversity" talks this year (IGDA/iASIG "Black" Voices in Gaming) and the same talk at PAX Online. So, I am spent! Thankfully, I believe the audience will be for younger students inquiring about the lifestyle, cultural climate and experiences that they may expect. So, I have the opportunity to change the narrative to educate upcoming game designers on etiquette as well as red flags to be cognizant of.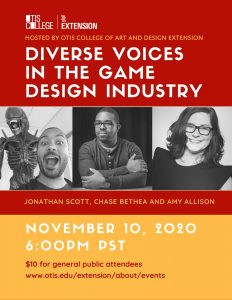 The three of us will be sharing our personal stories and career journeys in the game design industry. In addition, to the event being for Otis College Extension students, the will also be open to the public. For more info, sign up here.