Deity Quest Limited Edition Soundtrack CD Now Available on Bandcamp!
December 31, 2020
After several years, it is finally ready! It's been a long wait and a lot of preparation over the years. Officially announcing the limited edition Deity Quest Limited Edition Soundtrack CD.
Many years ago, I had a tiny dream to release a CD of my work. I wanted to go through a label to find out how to do it and I even reached out to Limited Run a few times but they did not respond. So, if you want to do something right, you do it yourself. I met Man Over Mars and asked if he wanted to do some game art to showcase his work to get into games. He took the 8-bit versions of the characters in the game, made by a different artist named Santiago, to a human realization of what they could be. It is phenomenal work! A pure re-imagining of almost 30 pixelated characters from the game! It took him over 6 months and it was worth all of that time. He finished it all in January 2016. The album back art was a mix between Natalie Maletz and Michael Muranaka.
From there it was about finding the right printer to do Man Over Mar's work justice because this was going on the CD itself. This took a few years of research.
Once the front and back art was printed, it then came down to presentation. Which you see below.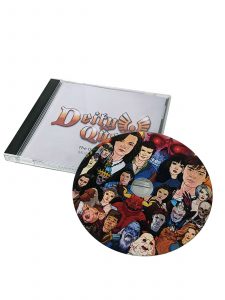 It should not have taken this long but the execution had to be done right. I am ecstatic that it is complete. If you follow me on social media you may recall, that I teased that they were done last year and pre-orders were live at my IndieCade 2019 performance.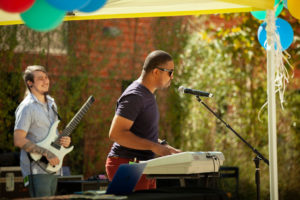 Soon after the page went live this awesome article came out announcing the Limited Edition CD Press within the hour and on New Years Eve too! https://chasebethea.bandcamp.com/album/deity-quest-original-soundtrack
If you are interested in getting your copy of the Limited Edition copy then, head over to this link.
Orders are happening fast and there about 10 left! As soon as that article was published, not too long after orders started coming in! I am very thankful for the support and happy that people value my music.
Thank you Fancy Fish Games for giving me the opportunity to score this game some years ago! Looking for it steam? Grab it here