Composium Presents How to Start as a Video Game Composer Masterclass!
January 12, 2021
The first event of the year is here and I am pleased to be partnering with Composium to present an exclusive Masterclass, "How To Start As a Video Game Composer." This event I will be discussing the always infamous question, how I started out as a composer in the video game industry, software, my advice for young aspiring composers, and the history of video game music.
It's quite the honor to have been asked by Anouk Dyussembayeva, CEO/Founder of Composium, shortly after publishing the interview she did about me. Her mission is to inspire young composers with knowledge from all backgrounds.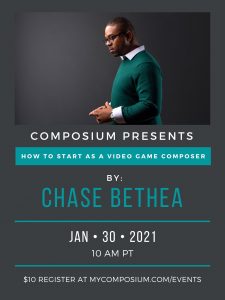 If you're looking for a classic, video game music techniques, this talk is probably for you. In addition to if you're looking to understand how I approach the choosing my instruments carefully, where I draw inspiration for music and how I found my unique sound, you'll love this class.
Interested in signing up? Click here to do it! See you there!